Good Morning Ladies!
I wanted to share with you a challenge I have decide to be a part of. It's called: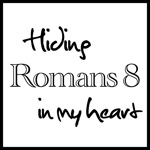 Over 100 women have decided to try and memorize Romans 8 over the next five months.
Psalm 119:11 says, "I have hidden your word in my heart that I might not sin
against you." I know what you're thinking, I can't memorize scripture! Well, I'm not
great at it either but I think it's an important spiritual discipline and the more we
practice it, the easier it will become. Even if you don't memorize it, you can meditate on the
scripture each week. I'm going to place the scripture on my bathroom mirror and as I get
ready every morning that will remind me to work on my memorization.
You are welcome to join me just click here to find out more information. I want more than
anything to grow closer to Christ and this is just one way to hold me accountable.
Also, I have someone working on some changes to my blog so if you have trouble with it
over the next few days, that's the reason. It shouldn't be very long so thanks for your patience!
Do you ever try to memorize scripture?